The Institute was established in 1972. It is the oldest and a premier Institute in the field of Environmental Engineering in Pakistan. It offers BSc, MSc and PhD in the field of Environmental Engineering. In addition, it provides advisory and consulting services to both, national and international organizations, in matters related to Environmental Engineering. Some of these organizations include, UNICEF, ADB, World Bank, UNDP, The Urban Unit, WASA, PHED and others. It is also one of the oldest and most reliable Institute that provides commercial testing services of water, wastewater and air. The Institute remained instrumental in framing National Environmental Quality Standards (NEQS) and National Standards for Drinking Water Quality (NSDWQ). Recently it has switched to Outcome Based Education (OBE) system and batches 2013-14 are accredited by Pakistan Engineering Council (PEC) on OBE, thus the BSc degree is now recognized by 18 members of Washington Accord including USA, UK, Australia, Canada, Japan, China and others.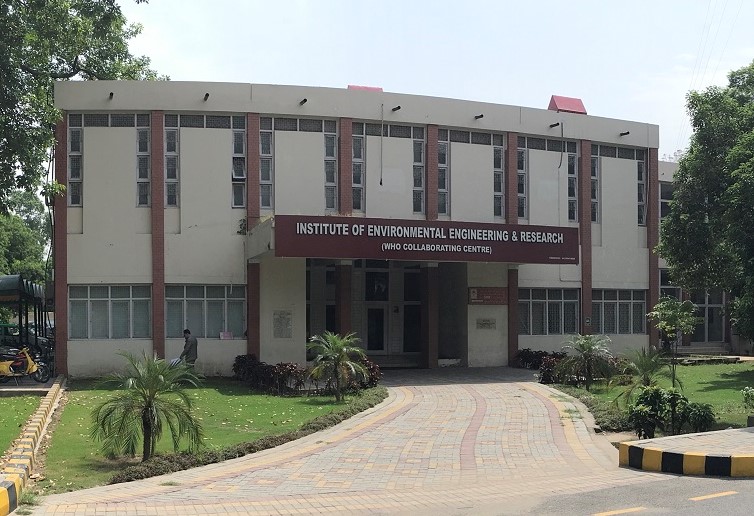 Vision
—
Become a world class institution and a think tank in the field of Environmental Engineering.
Mission Statement
—
To produce graduates capable to solve complex engineering problems related to environmental engineering, provide innovative and sustainable solutions for water supply, sewerage, water and wastewater treatment, solid waste management & air pollution problems, and devise appropriate solutions for above utility services.
IEER at a glance
—
COURSES OF STUDY
The following courses of study are offered at different levels:
Bachelors Degree in Environmental Engineering.
Master's Degree Course in Environmental Engineering*
M.Phill Environmental Sciences
Ph.D. degree in Environmental Engineering**
*The Masters Degree course is offered to both, full and part time students.
** This degree is earned by course work and research on topics relating to Environmental Engineering.

Laboratories and other Facilities
The Institute has laboratory facilities in the following areas:
Water Quality Testing
Unit Processes
Water Pollution Control
Air Pollution Monitoring
Environmental Microbiology
Heavy Metal Analysis
Pesticides, insecticides and other organic compounds analysis
Research Extensions
In addition to the teaching programs, the Institute is engaged in the multifaceted research activities for advancement of environmental engineering in the country. Some of the research areas are as follows.
Water pollution analysis & control
Water supply and sanitation
Water and air quality modeling
Air pollution analysis and control
Water treatment technologies
Wastewater treatment technologies
Risk assessment and management
Health Safety and Environment
Research and Investigations
Research and investigations in the area of Environmental Engineering are conducted by MSc and PhD. students and faculty members. Some of the research projects and studies have been sponsored by international agencies, public sector agencies and industries. These projects have played a vital role in finding practical solutions leading to the development of design criteria and guidelines particularly in the area of water and sanitation. Currently these design guidelines are being effectively utilized by the public works departments in the implementation of environmental engineering systems.
Training program and refresher course
The Institute offers numerous training programs, and refresher courses for the in service personnel, and field engineers from various organizations. It also organizes national and international seminars, and symposia on issues of environmental engineering in the context of local requirements.
Consultancy and advisory services
The institute offers advisory and consultancy services to industries, municipalities, and private organizations on a variety of environmental engineering issues such as;
Water and wastewater testing
Air pollution Monitoring
Design of solid waste management system
Environmental impact assessment
Planning and design of water & wastewater treatment facilities
Design vetting and review
Commercial Testing
IEER offers services for commercial testing. Currently following testing services are provided for commercial clients;
| | | | |
| --- | --- | --- | --- |
| Sr. # | Parameter | Sr. # | Parameter |
| 1. | pH | 2. | COD |
| 3. | Turbidity | 4. | Fluoride |
| 5. | Conductivity | 6. | Coliforms (Total) |
| 7. | Total Solids | 8. | Fecal Coliform |
| 9. | Total suspended solids (TSS) | 10. | Ammonia |
| 11. | Total Dissolved Solids | 12. | Zinc |
| 13. | Settleable Solids | 14. | Iron |
| 15. | Total Alkalinity | 16. | Copper |
| 17. | Chlorides | 18. | Manganese |
| 19. | Sulphides | 20. | Chromium |
| 21. | Total Hardness | 22. | Nickel |
| 23. | Calcium Hardness | 24. | Lead |
| 25. | Magnesium Hardness | 26. | Mercury |
| 27. | Sulphates | 28. | DO |
| 29. | Sodium | 30. | BOD |
| 31. | Total Kjeldahl Nitrogen | 32. | Cadmium |
| 33. | Nitrates | 34. | Arsenic |
| 35. | Nitrites | 36. | Calcium |
| 37. | Phosphates | 38. | Magnesium |